Categories
Categories
Brands
Brands
Product Description
Exclusive offer from Cyclops Optics: Besides the usual FREE Shipping Offer for most countries worldwide, now we further offer a FREE LensPen (original value US$11), allowing you to clean the surface of your optical equipment safely. In case your chosen option is out of stock, we will send another version for you.
*Free shipping applicable*
STC Astro-Multispectra Clip Filter for Sony APS-C bodies is a novel light pollution filter designed by STC Optics with transmission characteristics designed by professional astronomer and renowned astrophotographer Dr. Wei-Hao Wang. Check out the comparisons below to see how effective the Astro-Multispectra filter is!
Placing the light pollution filter closer to the sensor reduces color shift that may occur at the peripheral areas of the image if front screw-in lens filter is used.
Highlights
Greatly reduces interference from artificial lighting in city
Suitable for Sony APS-C mirrorless with camera lens of focal length 14mm or longer
Natural colour representation
High transmission for astronomical bodies emission
Co-developed by STC and Dr. Wei-Hao Wang, a professional astronomer and renowned astrophotographer
* Please refer to compatible camera list below
Features
Clip Filter is designed for Sony APS-C cameras. Mounting and removing the Clip-Filter is quick and easy. The colour shift problem that may occur due to the wide angle SLR lens in peripheral areas of the image could be reduced. The recommended SLR lenses focal length is 14mm or longer on APS-C bodies.
The material is A2 stainless steel which is virtually non-magnetic and less brittle at low temperatures. Specially designed Clip-shaped structure could be pressed firmly while attaching the lens on camera body.
STC Astro-MS Clip filter can reduce the interference from artificial lighting in the city, and enhance the wavelength of Hα, Hβ, OIII and SII. (Hα=656.3 nm, Hβ=486.1 nm, OIII=495.9 & 500.7 nm, SII=672.4 nm)
It is coated by the use of the IBAD (Ion beam-assisted deposition) technology on Schott® B270 optical 2mm glass, working for higher durability and easily cleaning, and preventing aging variation in optical spectral characteristics due to temperature and humidity change
High-quality double-sided NANO Anti-smudge coating provides excellent performance on waterproof and grease-proof capability
Considering the different optical lens properties of all kinds of brands, it is normal for spherical and coma aberration to occur on part of the fisheye lens, super wide angle lens and wide angle lens.
12 months' original manufacturer warranty and lifetime warranty on aluminium frame
Compatible Sony APS-C bodies
A5000
A5100
A6000
A6100
A6300
A6400
A6500
A6600

ILCE-QX1
Compatible Sony lenses
E PZ 16-50 MM F3.5 - 5.6 OSS
E 18-200 mm F3.5-6.3 OSS LE
FE 24-240 mm F3.5-6.3 OSS
FE 12-24mm F4 G
FE PZ 28-135 mm F4 G OSS
FE 70-200 mm F4 G OSS
FE 70-300mm F4.5-5.6 G OSS
G Master FE 24-70mm F2.8GM
G Master FF 70-200 MM F2.8 GM OSS
FE 28 mm F2
FE 50mm F1.8
FE 50 mm F2.8 Macro
FE 85mm F1.8
FE 90mm F2.8 G Macro OSS
G Master FE 85mm F1.4 GM
G Master FE 100mm F2.8 STF GM OSS
Also available for
Before & After
| | |
| --- | --- |
| | |
| Without STC Astro-Multispectra | With STC Astro-Multispectra |
Direct JPEGs output from Nikon D800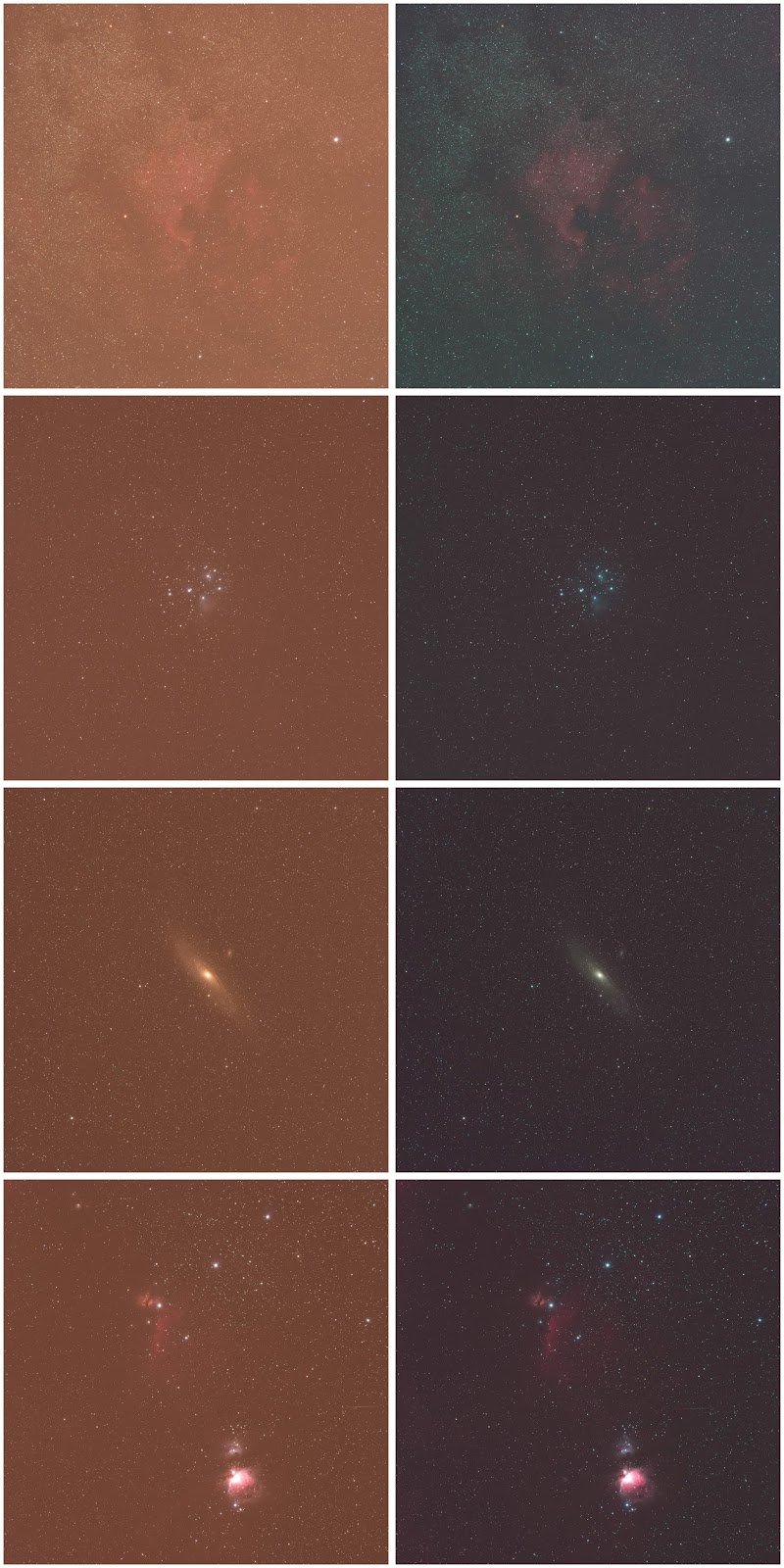 Credits: Dr. Wei-Hao Wang
Camera: Nikon D800 (astro-modded)
Lens: Nikkor AIS ED 180mm f/2.8 @ f/4
Exposure: 2 minutes
STC Astro-M Transmission Characteristics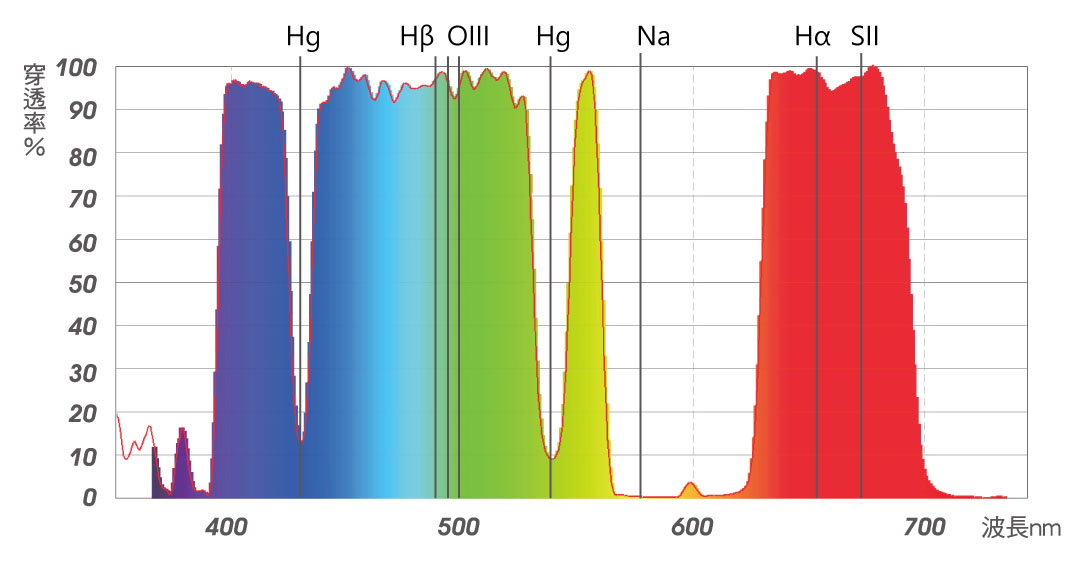 Natural colour representation by selectively blocking out UV light below 410nm, sky glow in between 620nm and 640nm and infrared light beyond 680nm
High transmission for astronomical bodies emission at Hα=656.3 nm, Hβ=486.1 nm, OIII=495.9 & 500.7 nm, SII=672.4 nm and slightly passing yellow-orange-ish emission at 605nm.
Clip Filter Is Easy to Install
STC Technologies
STC utilises ion beam assisted deposition (IBAD) to solidly bind the coatings onto Schott B270 glass, the very same glass used in Zeiss lenses. Such technique enhances the light transmission and also durability of the 160 layers of coating deposited to produce the advanced filter characteristics shown above.
With patented Ultra Layer® technology, both surfaces of Astro-Multispectra are coated with Anti-Smudge nano-coating to prevent dust and water from settling on the filter surface. Dew will not form and your filter is always clean. If necessary, it's effortless to clean.
Warranty
6 months' warranty covering defects due to manufacturing and workmanship
Extended to 12 months by registering on STC website.
Specifications
| | |
| --- | --- |
| Compatible camera | Sony A5000/A5100/A6000/A6300 |
| Material | 1mm Schott® B270 Glass• - 304 (A2) Stainless Steel |
| Weight | 9g |
| Spectrum | 400nm – 700nm |
| Water drop contact angle | >110 degree |
| Multiple coating | Both-sided, total 160 layers |
| Origin | Taiwan |
| Passed | RoHS 2.0 |
No synonyms found.
Find Similar Products by Category
Customers also viewed