Categories
Categories
Brands
Brands
QHY5-III 290M Mono + Free Shipping + Free LensPen (Discontinued)
QHY5-III 290M Mono + Free Shipping + Free LensPen (Discontinued)
Product Description
QHY5-III-290 is currently the best performing planetary camera. It uses Sony STARVIS Exmor R backside illuminated IMX290 CMOS sensor. The Starvis meets the criteria of revealing very dim stars at real-time video rate. QHY5-III-290 can capture magnitude 9 stars when connected with a 50mm f/1.4 C-mount lens. To compare with the IMX236 sensor, it has twice the sensitivity in visible light and three times more in near infrared wavelength.
QHY5-III-290 has ultra-low readout noise. The backside illuminated sensor and low readout noise make this camera an ideal planetary camera. The 2.9um small pixel size is ideal for planetary imagers to achieve high resolution sampling.
The USB3.0 super speed interface and fast readout circuit design allows 135 FPS at full HD output. The camera has 10/12bit ADC and it outputs the 8 bit or 12 bit image respectively.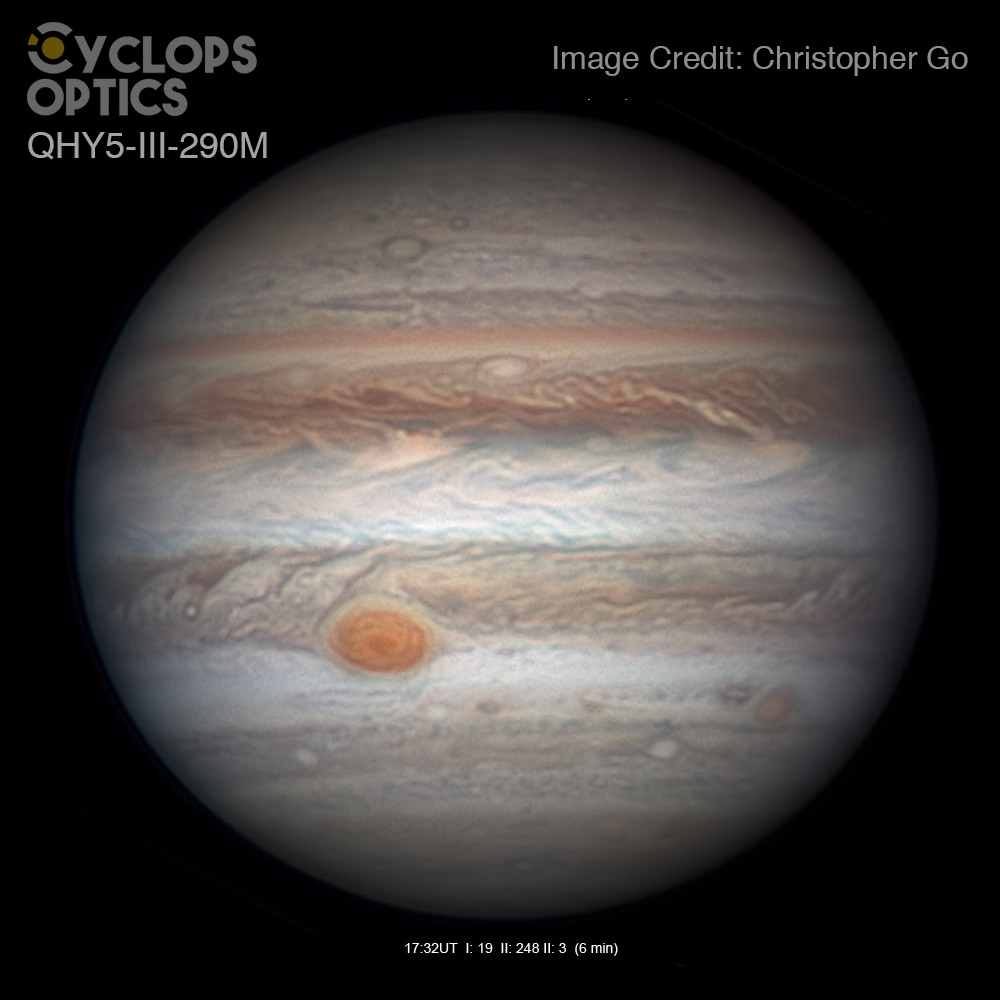 Jupiter captured on 21st March 2017 by Christopher Go using QHY5-III-290M and C14
Seeing: 7-9/10
Transparency: 3-4/5
Location: Cebu, Philippines
QHY5-III Series Standard Features
QHYCCD proprietary noise reduction technology
Amp-glow suppression technology
Free of vertical or horizontal banding
State of the art Sony CMOS sensor
USB3 high speed interface
5 pin LEMO aerospace grade guiding port (ST-4 compatible)
Grooved heat sink for passive cooling
Standard 1.25" barrel design
QHY5-III is a third generation QHYCCD USB3.0 camera utilising state of the art CMOS sensor with sophisticated thermal design in a compact form. The well acclaimed 1.25" eyepiece barrel design is retained and with grooved heatsink to enhance passive cooling.
Apart from the state of the art sensor, the QHY5-III is equipped with aerospace grade guiding port, i.e. the 5 pin LEMO port which provides highly reliable connection. This is a feature only available on premium camera where manufacturers really care about its customers.
Includes
QHY5-III 290 Colour / Mono x1

1.25" extension tube x1

C mount adapter x1

Parfocal ring x1

1.5m USB3 cable x1

1.5m 5pin LEMO to ST-4 cable x1
Specifications
QHY5-III 174

QHY5-III 178

QHY5-III 224

QHY5-III 290

CMOS sensor

IMX174

IMX178 (BSI)

IMX224

IMX290 (BSI)

Full resolution

1920 x 1200

3072 x 2048

1280 x 960

1920 x 1080

Sensor size

1/1.2 inch

1/1.8 inch

1/3 inch

1/2.8 inch

Sensor dimension

11.34mm x 7.13mm

7.37mm x 4.91mm

4.8mm x 3.6mm

5.6mm x 3.1mm

Pixel Size

5.86 µm

2.4 µm

3.75 µm

2.9 µm

Peak QE

78%

To be determined

TBD

TBD

Full well capacity

>32ke-

TBD

19ke-

>15.7ke-

System gain

0.46e-/ADU @ gain 0

Readout Noise

5.3e-@ Gain 0, 2.8e- @ Gain 60

0.5-0.7e- @ middle gain with HGC mode

1.6e- @ Gain 100

3e- @ lowest gain with LGC mode

Readout Type

Progressive scan

Shutter

Global shutter

Rolling electronic shutter

Exposure Time

5µs - 900s

9µs - 1200s

7µs - 429s

5µs - 600s

Max FPS on full res

138 FPS

50 FPS

150 FPS

135 FPS

Max FPS (ROI)

262 FPS @ 960 x 600

100FPS @ 1528 x 1024

300FPS @ 640 x 480

220FPS @ 960 x 540

490 FPS @ 480 x 300

190FPS @ 764 x 512

557FPS @ 320 x 240

660FPS @ 480 x 270

ADC Sampling Resolution

10/12bit

10/14bit

10/12bit

ADC Output

8/12bit

8/14bit

8/12bit

Pixel Binning

1x1, 2x2

Microlens

Onchip microlens array

Anti-ampglow control

Yes (advanced algorithm reduces ampglow significantly)

Optics window

AR + AR (mono)

AR + IR cut (680nm)

AR + AR (mono)

AR + IR cut (680nm)

AR + IR cut (680nm)

Back focal distance

11mm

Guide Port

5 pins LEMO aviation socket

Data & Power Port

USB3

Camera size

1.25" eyepiece size (D=31.6mm)

Software Support

ASCOM, SharpCap, FireCapture
Cyclops Optics Special Guarantee
Ever worrying about the availability of the 5 pin LEMO to ST4 autoguiding cable? Cyclops Optics has your back. The cable is so robust that we are confident to offer our customers 5 years warranty on the cable. Shall the cable fails, we will offer you a one-to-one replacement, no question asked. For international customers, registered air mail is optional.
The camera is backed by 1 year limited warranty.
Find Similar Products by Category
Customers also viewed