Categories
Categories
Brands
Brands
STC Astro Duo-Narrowband Filter (50x50mm Square) + FREE Shipping + FREE LensPen Set
STC Astro Duo-Narrowband Filter (50x50mm Square) + FREE Shipping + FREE LensPen Set
Product Description
STC Astro Duo-Narrowband enables astrophotographers to capture two narrowband emission lines simultaneously, rendering ultra high contrast nebula images even if under the influence of strong light pollution in city. This ultimate dual narrowband filter enables one-shot-colour cooled camera and DSLR users to capture narrowband signals efficiently.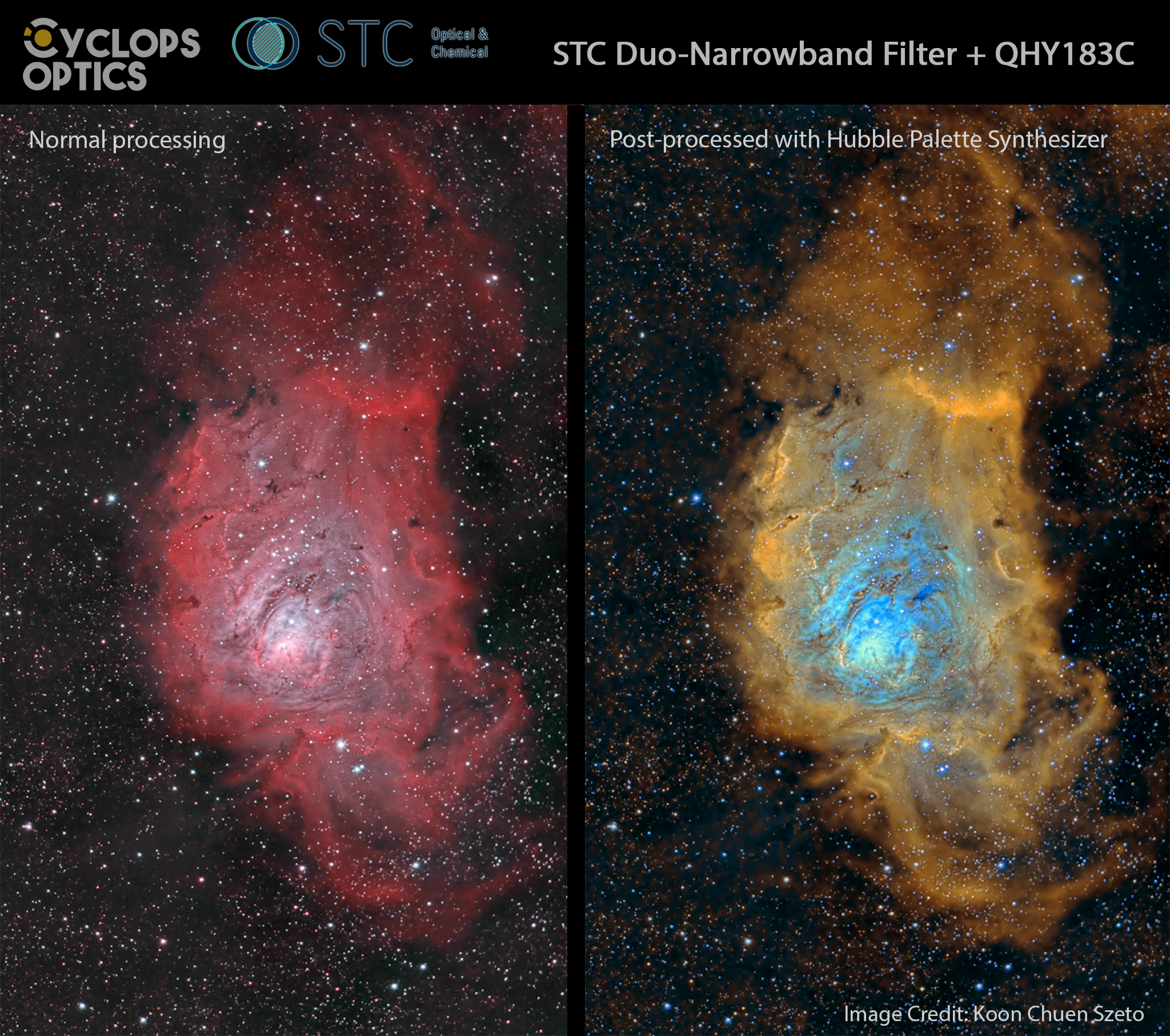 Includes
STC Duo Narrowband 50x50mm square unmounted filter (other sizes available on request)
STC high quality microfiber cleaning cloth
Highlights
Passes two major narrowband 10nm transmission lines — Ha (656.3nm) & O-III (500.7nm) at high transmission rate (~80% or above)
Suitable for DSLR and One-Shot-Colour Camera
Superb contrast for nebulosity
Available in 48mm standard size and Clip Mount version (see bottom of page)
STC Astro Duo-Narrowband Transmission Characteristics
* This diagram is for illustration purpose only
STC Technologies
STC utilises ion beam assisted deposition (IBAD) to solidly bind the coatings onto Schott B270 glass, the very same glass used in Zeiss lenses. Such technique enhances the light transmission and also durability of the 160 layers of coating deposited to produce the advanced filter characteristics shown above.
With patented Ultra Layer® technology, both surfaces of Astro-Multispectra are coated with Anti-Smudge nano-coating to prevent dust and water from settling on the filter surface. Dew will not form and your filter is aways clean. If necessary, it's effortless to clean.
Warranty
12 months warranty covering defects due to manufacturing and workmanship
Specifications
Substrate
1mm Schott B270 glass
Rim Thickness
3.5mm (exclusive of threads)
Wavelength
Hydrogen-alpha (656.3nm) & Oxygen-III (500.7nm)
Water droplet contact angle
>110

º

Environmental Rating
RoHs 2.0
Made in Taiwan



Interested in Clip Mount version? Sign up here!
Find Similar Products by Category
Customers also viewed